Gas stoves are low maintenance like electric stoves but have real flames unlike electric stoves.
QUALITY DRU GAS FIRES
The perfect interplay between style, function and reliability
For every gas fire we design, we imagine the role that it plays in the lives of our customers. An ideal experience of warmth, atmosphere and comfort. New sustainable gas fires offer innovations in energy saving (energy label A) or the use of propane gas. The combination of a heat pump with a gas fire is also a sustainable and future-proof alternative. A heat pump provides the basic heat and using the gas fire for additional heating keeps you warm on cold winter days.
GAZCO
The perfect interplay between style, function and reliability
Gazco have been producing the highest quality stoves, fires and fireplaces for over 30 years. Initially founded as Stovax Ltd in 1981 and producing wood burning stoves, it had been set up some years later to begin producing gas-fired versions. Today it is one of Europe's leading manufacturers and distributors of wood burning stoves, gas burning stoves, electric fires, Gazco gas fires, fireplaces and accessories, and export their products worldwide.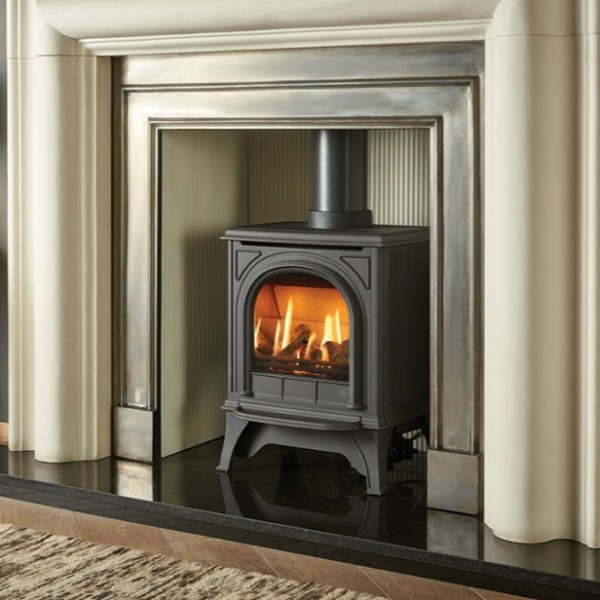 Description:
The compact Gazco Huntingdon 20 gas stove's proportions make it perfect for British fireplace openings, whilst its highly efficient 2.6kW heat output easily creates a warming atmosphere in standard sized rooms. Producing dancing flames over a realistic log fuel bed, this stove is offered with Standard and Programmable Thermostatic remote controls, providing real fire ambience at the touch of a button. Presented in either Matt Black, Matt Ivory or Ivory enamel finishes, the Huntingdon 20 lets you choose a colour that best suits your home. Further expanding the styling options available, this elegant stove is also offered in both clear door and tracery versions.
Specification:
Nominal Heat Output: 1.64- 2.7kW
Gas Types: Natural Gas or LPG Fuel
Efficiency:
Conventional Flue: 76%
Balanced Flue: 85.1%
Command Controls: Manual, Standard upgradeable or Programmable Thermostatic upgradeable